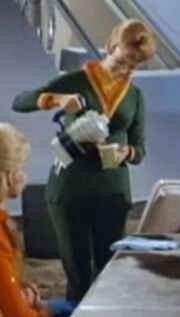 Coffee is a popular beverage.
Don West typically had at least two cups of coffee at breakfast. ("The Prisoners of Space")
Jeremiah Smith enjoyed coffee while on Tauron. ("Curse of Cousin Smith")
When Will brought his dessert to give to Smith, the Doctor lamented that the boy did not bring him coffee too. ("West of Mars")
Ad blocker interference detected!
Wikia is a free-to-use site that makes money from advertising. We have a modified experience for viewers using ad blockers

Wikia is not accessible if you've made further modifications. Remove the custom ad blocker rule(s) and the page will load as expected.