Colonel Jeremiah Beauregard Smith
was
Dr. Smith's
cousin. (
Curse of Cousin Smith
). Jeremiah had at least 8 other cousins. Jeremiah enjoyes the delightful beverage coffee which he had last tasted on the planet Tauron. Will noticed that he was a lot like Dr.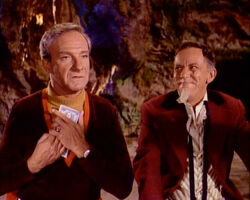 Smith, Jeremiah says in return that Zachary and himself spent a great deal of time together as children. When Zachary and Jeremiah meet face-to-face, it is suggested that they had fought before as youngsters. In a nod to LOST IN SPACE, an X FILES character was named Jeremiah Smith.
Ad blocker interference detected!
Wikia is a free-to-use site that makes money from advertising. We have a modified experience for viewers using ad blockers

Wikia is not accessible if you've made further modifications. Remove the custom ad blocker rule(s) and the page will load as expected.