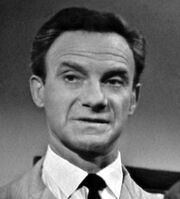 Jonathan Harris (November 6, 1914 - November 3, 2002) was an American stage and character actor. Two of his best-known television roles were as the timid accountant Bradford Webster in The Third Man, and the comic villain Dr. Zachary Smith, in the popular 1960s sci-fi series, Lost in Space. Jonathan Harris was to reprise his role as Dr. Smith in an unproduced telefilm titled "Lost In Space: The Journey Home" but he died of a blood clot to the heart before production could begin.
Harris considered West of Mars and The Cave of the Wizards his two favorite episodes of Lost in Space.[1][2]
External Links
Edit
Ad blocker interference detected!
Wikia is a free-to-use site that makes money from advertising. We have a modified experience for viewers using ad blockers

Wikia is not accessible if you've made further modifications. Remove the custom ad blocker rule(s) and the page will load as expected.