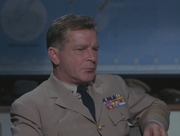 John Richard Basehart was born in Zanesville, Ohio in 1914. After graduating from High School Basehart decided to become a newspaper reporter like his father. As a reporter he uncovered a scandal going on in the City Hall. He ended up toppling the adminidstration but lost his job. After losing his job Basehart decided to become an actor. At Philadelphia's famous Hedgerow Theater he played 40 different rolls in 5 years. Some of his early movie rolls included "Cry Wolf" and the film "He Walked by Night" earned him a contract with 20th Century Fox. After Voyage to the Bottom of the Sea went off the air Basehart continued to act in movies, television, and stage. In 1971 Basehart and his wife Diana formed the "Actors and Others for Animals" a non-profit organization to prevent cruelty to animals. Richard Basehart died on September 17, 1984.
External links
Edit
Ad blocker interference detected!
Wikia is a free-to-use site that makes money from advertising. We have a modified experience for viewers using ad blockers

Wikia is not accessible if you've made further modifications. Remove the custom ad blocker rule(s) and the page will load as expected.