Ad blocker interference detected!
Wikia is a free-to-use site that makes money from advertising. We have a modified experience for viewers using ad blockers

Wikia is not accessible if you've made further modifications. Remove the custom ad blocker rule(s) and the page will load as expected.
The Time Tunnel
is a science fiction television show that aired between 1966-1967.
"The Time Tunnel"
was released by 20th Century Fox and broadcast on ABC. The show ran for a single season of 30 episodes.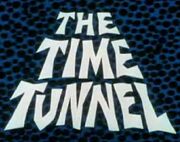 About the Show
Edit
The adventures of scientists Tony Newman and Doug Phillips, lost in the vortex of time during an experiment to prove the effectiveness of the Time Tunnel. Both men are bounced from one era to the next as the personnel of the Tunnel keep them alive while they try to bring them home.
| | | |
| --- | --- | --- |
| Title | Episode | Original Airdate |
| Rendezvous with Yesterday | 01x01 | September 9, 1966 |
| One Way to the Moon | 01x02 | September 16, 1966 |
| End of the World | 01x03 | September 23, 1966 |
| The Day the Sky Fell In | 01x04 | September 30, 1966 |
| The Last Patrol | 01x05 | October 7, 1966 |
| Crack of Doom | 01x06 | October 14, 1966 |
| Revenge of the Gods | 01x07 | October 21, 1966 |
| Massacre | 01x08 | October 28, 1966 |
| Devil's Island | 01x09 | November 11, 1966 |
| Reign of Terror | 01x10 | November 18, 1966 |
| Secret Weapon | 01x11 | November 25, 1966 |
| The Death Trap | 01x12 | December 2, 1966 |
| The Alamo | 01x13 | December 9, 1966 |
| Night of the Long Knives | 01x14 | December 16, 1966 |
| Invasion | 01x15 | December 23, 1966 |
| The Revenge of Robin Hood | 01x16 | December 30, 1966 |
| Kill Two by Two | 01x17 | January 6, 1967 |
| Visitors from Beyond the Stars | 01x18 | January 13, 1967 |
| The Ghost of Nero | 01x19 | January 20, 1967 |
| The Walls of Jericho | 01x20 | January 27, 1967 |
| Idol of Death | 01x21 | February 3, 1967 |
| Billy the Kid | 01x22 | February 10, 1967 |
| Pirates of Deadman's Island | 01x23 | February 17, 1967 |
| Chase Through Time | 01x24 | February 24, 1967 |
| The Death Merchant | 01x25 | March 3, 1967 |
| Attack of the Barbarians | 01x26 | March 10, 1967 |
| Merlin the Magician | 01x27 | March 17, 1967 |
| The Kidnappers | 01x28 | March 24, 1967 |
| Raiders from Outer Space | 01x29 | March 31, 1967 |
| Town of Terror | 01x30 | April 7, 1967 |
External Links
Edit