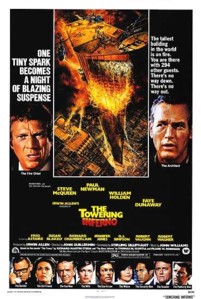 The Towering Inferno is a 1974 disaster film starring Steve McQueen and Paul Newman. The movie was directed by John Guillermin and Irwin Allen. The film was adapted by Stirling Silliphant from the novels The Tower by Richard Martin Stern and The Glass Inferno by Thomas N. Scortia and Frank M. Robinson.
Primary cast
Steve McQueen as Chief Michael O'Hallorhan
Paul Newman as Doug Roberts
William Holden as James Duncan
Fred Astaire as Harlee Clairbone
Faye Dunaway as Susan Franklin
Susan Blakely as Patty Simmons
Richard Chamberlain as Roger Simmons
Jennifer Jones as Lisolette Mueller
O.J. Simpson as Harry Jernigan
Robert Vaughn as Sen. Gary Parker
Robert Wagner as Dan Bigelow
Susan Flannery as Lorrie
Other
Scott Newman (son of Paul Newman) as the young acrophobic fireman.
Sheila Matthews as Paula Ramsey
Jack Collins as Mayor Robert Ramsey
Gregory Sierra as Carlos the bartender
Don Gordon as Kappy
Norman Grabowski as Flaker
Dabney Coleman as Deputy Chief #1
Mike Lookinland as Phillip Albright
Norman Burton as Will Giddings
Felton Perry as Fireman Scott
External Links
Edit
Ad blocker interference detected!
Wikia is a free-to-use site that makes money from advertising. We have a modified experience for viewers using ad blockers

Wikia is not accessible if you've made further modifications. Remove the custom ad blocker rule(s) and the page will load as expected.