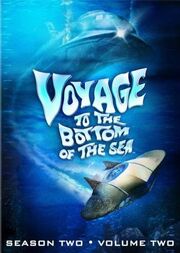 Voyage to the Bottom of the Sea season two ran for a total of 26 episodes. (Five less than the previous season.)
| | | | |
| --- | --- | --- | --- |
| Title | Episode | Prodno. | Original Airdate |
| Jonah and the Whale | 2x01 / 32 of 110 | 8201 | September 19, 1965 |
| Time Bomb | 2x02 / 33 of 110 | 8203 | September 26, 1965 |
| ...And Five of Us Are Left | 2x03 / 34 of 110 | 8202 | October 3, 1965 |
| The Mist of Silence | 2x04 / 35 of 110 | 8205 | October 5, 1965 |
| The Price of Doom | 2x05 / 36 of 110 | 8204 | October 24, 1965 |
| The Left-Handed Man | 2x06 / 37 of 110 | 8207 | October 31, 1965 |
| The Deadliest Game | 2x07 / 38 of 110 | 8206 | November 7, 1965 |
| Leviathan | 2x08 / 39 of 110 | 8211 | November 14, 1965 |
| The Peacemaker | 2x09 / 40 of 110 | 8212 | November 21, 1965 |
| The Silent Saboteurs | 2x10 / 41 of 110 | 8209 | November 28, 1965 |
| The X Factor | 2x11 / 42 of 110 | 8214 | December 5, 1965 |
| The Machines Strike Back | 2x12 / 43 of 110 | 8215 | December 12, 1965 |
| The Blizzard Makers | 2x13 / 44 of 110 | 8213 | December 19, 1965 |
| Terror on Dinosaur Island | 2x14 / 45 of 110 | 2717 | December 26, 1965 |
| Long Live The King | 2x15 / 46 of 110 | 8216 | January 2, 1966 |
| Deadly Creature Below! | 2x16 / 47 of 110 | 8218 | January 9, 1966 |
| The Phantom Strikes | 2x17 / 48 of 110 | 8219 | January 16, 1966 |
| The Sky's on Fire | 2x18 / 49 of 110 | 8220 | January 23, 1966 |
| Graveyard | 2x19 / 50 of 110 | 8221 | January 30, 1966 |
| The Shape of Doom | 2x20 / 51 of 110 | 8222 | Febuary 6, 1966 |
| Dead Man's Doubloons | 2x21 / 52 of 110 | 8223 | February 13, 1966 |
| The Death Ship | 2x22 / 53 of 110 | 8210 | Febuary 20, 1966 |
| The Monster's Web | 2x23 / 54 of 110 | 8224 | Febuary 27, 1966 |
| The Menfish | 2x24 / 55 of 110 | 8224 | March 6, 1966 |
| The Mechanical Man | 2x25 / 56 of 110 | 8226 | March 13, 1966 |
| The Return of the Phantom | 2x26 / 57 of 110 | 8227 | March 20, 1966 |
Background Information
Edit
Every episode of this season was filmed in color.
The character of Stu Riley (played by Allan Hunt) was introduced this season.
The character Chief Curly Jones (played by Henry Kulky) did not appear in this season. Henry Kulky passed away in between season one and season two. The role of chief on board the Seaview was played by Terry Becker.
Between season one and season two, the Seaview was redesigned. The eight small windows at the nose of the Seaview changed to four large ones, the control room was relocated to be at the front of the sub, and the Flying sub was added.
Ad blocker interference detected!
Wikia is a free-to-use site that makes money from advertising. We have a modified experience for viewers using ad blockers

Wikia is not accessible if you've made further modifications. Remove the custom ad blocker rule(s) and the page will load as expected.